Basic Knowledge of CNS System
Purpose of the Course:
To provide the participants with basic knowledge of communication system, navigation system, surveillance system, elements of air traffic management, principle of electronic equipment, and standards referenced in ICAO Annex 10
Learning Objectives:
After successfully completing the course, the trainees will gain basic knowledge of the following;
Communication System

The current communication system (VHF voice. HF voice)
FANS system (VHF voice/data, SSR Mode S data link, AMSS data/voice)

Navigation System

The Current Air Navigation system (OMEGA/LORAN-C, NDB, VOR/DME, ILS, Barometric altitude and INS/IRS)
FANS system (RNAV/RNP, GNSS, MLS, NDB, VOR/DME, Barometric altitude and INS/IRS)

Surveillance System

The current system (Primary Radar, SSR Mode A/C, Voice position reports)
FANS system (SSR Mode A/C, SSR Mode S, ADS)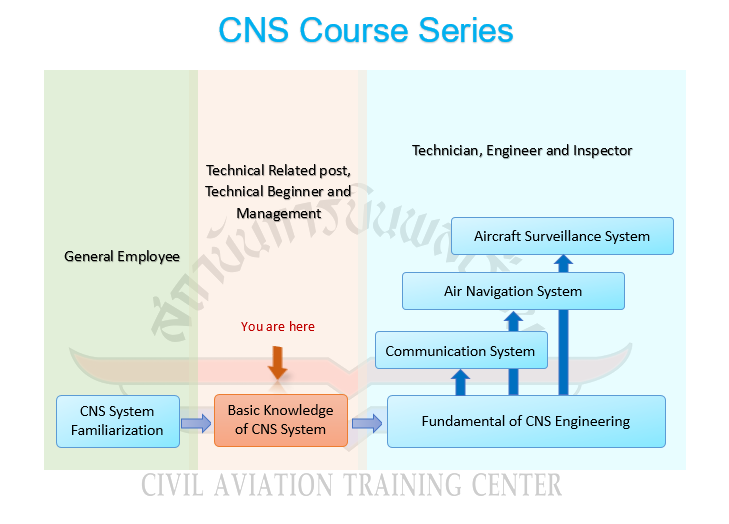 Target Population:
Operational-level or Management-level personnel in aviation who need to have a basic knowledge of the CNS system.
Beginner-level engineers involved in air traffic jobs prior to taking the engineered-level CNS training course.
Duration: 5 Days (30 Hours)
Delivery Mode: Classroom
Training Area: Air Navigation Service
The language of Instruction: English or Thai (depend on participant condition)
Location: Bangkok, Thailand or as required
Tuition Fee: 600 USD
Tuition Fee: 17,500 THB (Case Thai Citizenship or Funded by Thailand registered company.)
Download: Course Information
Class: Please check at iTrain system
For more information, contact CATC Aviation Human Resource Development Center email: itrain@catc.or.th